Craving a Heart-Healthy Salad? Dive Into Our DASH Diet Ambrosia with Coconut and Toasted Almonds Salad Recipe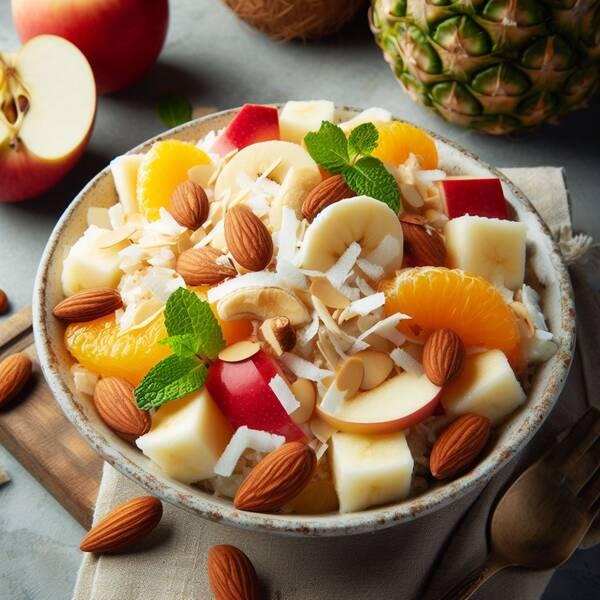 (Note: Some of the links in this post are affiliate links, and we will be compensated when you make a purchase by clicking through our links at no additional cost to you.)
In the realm of heart-healthy indulgences, the DASH Diet stands out as a beacon of nutritious and delicious choices, especially for those looking to manage high blood pressure. Today, we bring you a delightful twist on a Southern classic—Ambrosia with Coconut and Toasted Almonds. Packed with vibrant fruits and wholesome ingredients, this salad not only tantalizes your taste buds but also supports your cardiovascular health.
The DASH Diet Advantage:
DASH, which stands for Dietary Approaches to Stop Hypertension, has gained acclaim for its ability to promote heart health and manage blood pressure. Emphasizing the consumption of nutrient-rich foods, the DASH Diet encourages a balanced intake of fruits, vegetables, lean proteins, and whole grains. Our Ambrosia recipe aligns seamlessly with the DASH principles, making it an ideal treat for those mindful of their cardiovascular well-being.
>>> Read more: Experience the power of healthy eating made easy with this printable 7-Day DASH Diet Meal Plan, designed to nourish your body and simplify your journey to better eating habits. Click here.
Heart-Boosting Ingredients:
This Ambrosia recipe is a symphony of flavors and textures, bringing together a medley of fruits known for their heart-friendly properties. Pineapple, rich in vitamin C, takes center stage, providing a significant portion of your daily requirement in just one serving. Oranges contribute their own citrusy goodness, adding not only flavor but also more heart-protective vitamin C.
Toasted Almonds and Unsweetened Coconut:
Beyond the fruity goodness, this Ambrosia introduces a delightful crunch with 1/2 cup of heart-healthy slivered almonds and unsweetened shredded coconut. Almonds, a source of monounsaturated fats, have been linked to improved heart health, while coconut adds a satisfying tropical flair without the added sugars.
>>> Immerse yourself in the transformative power of the DASH diet with these must-read books
A Visual Feast and Nutritional Powerhouse:
Serve this Ambrosia in individual bowls, sprinkling each portion with the toasted almonds and coconut. The result is not just a visual feast but a nutritional powerhouse that aligns with DASH Diet principles. Top it off with fresh mint leaves for a burst of freshness and an elegant finish.
Craving a Heart-Healthy Salad? Dive Into Our DASH Diet Ambrosia with Coconut and Toasted Almonds Salad Recipe
Prep time: 30 minutes
Cook time: 20 minutes
Serves: 8 servings
>>> Read more: Discover the power of nutritious and delicious eating with the Mayo Clinic Diet's expertly crafted meal plan. Click here.
Ingredients
1/2 cup slivered almonds
1/2 cup unsweetened shredded coconut
1 small pineapple, cubed (about 3 cups)
5 oranges, segmented
2 red apples, cored and diced
1 banana, halved lengthwise, peeled and sliced crosswise
2 tablespoons cream sherry
Fresh mint leaves for garnish
Instructions
Preheat your oven to 325°F.
Spread the almonds evenly on a baking sheet and bake for about 10 minutes, stirring occasionally, until they turn golden and give off a fragrant aroma. Once done, transfer them to a plate to cool.
Now, onto the coconut. Add the unsweetened shredded coconut to the same baking sheet and bake for approximately 10 minutes. Remember to stir often to ensure even browning. Once lightly browned, transfer the coconut to a plate to cool.
In a large bowl, mix together the cubed pineapple, segmented oranges, diced apples, banana slices, and sherry. Gently toss the ingredients to ensure an even blend.
Divide the fruit mixture into individual bowls.
Sprinkle the toasted almonds and coconut evenly over each bowl of fruit.
Garnish the dessert with fresh mint leaves.
Serve immediately and enjoy your heart-healthy Ambrosia!
Nutrition Information (Per Serving) – 1 Cookie
Calories: 177
Total Fat: 5g
Saturated Fat: 1g
Sodium: 2mg
Total Carbohydrates: 30g
Added Sugars: 0g
Sugars: 21g
Dietary Fiber: 6g
Protein: 3g
Cholesterol: 0mg
>>> Grab Your FREE e-book: "8 Ways To Lower Your Blood Pressure Without Medication" to empower yourself with the knowledge to lower your blood pressure – Click here now!
Our Ambrosia with Coconut and Toasted Almonds salad recipe is a celebration of heart-healthy indulgence. Perfect for those following the DASH Diet or anyone looking to savor a salad that loves your heart back. Join us in embracing a sweet journey where flavor meets nutrition, and indulge responsibly in a treat that nourishes both your soul and your cardiovascular well-being. Cheers to good health and great taste!
>>> Read more: Say goodbye to meal prep and hello to fresh, healthy meals with Fresh N Lean's gourmet delivery service. Click here.