5 Best Wrist Blood Pressure Monitors in 2023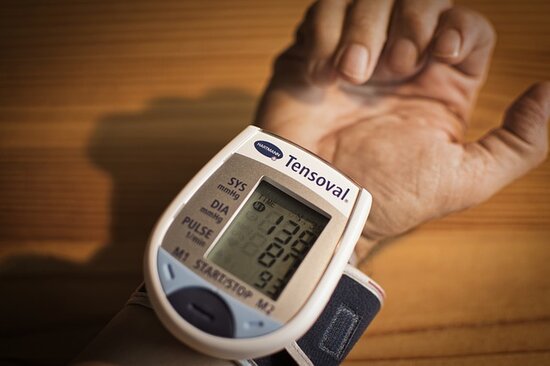 (Note: Some of the links in this post are affiliate links, and we will be compensated when you make a purchase by clicking through our links at no additional cost to you.)
What Are The Best Wrist Blood Pressure Monitors in 2023?
High blood pressure is a medical condition that millions of people all over the world have to deal with on a daily basis. The condition can be caused by a number of factors, including weight, diet, age, smoking and stress. The best way to manage your blood pressure is to monitor it regularly. Physician's offices use arm cuffs to check blood pressure, but this method may not be very convenient at home. In addition, some people can't have their blood pressure measured at the upper arm, whether this is due to their arm being too large or they find arm cuffs painful. So for those looking to keep an eye out on their health at home, an easy to use, easy to carry wrist blood pressure monitor is perfect for checking up on your blood pressure on a daily basis. It is perfect for individuals who have trouble placing a cuff on their upper arm, or just for people who prefer the quick and easy wrist method. To help you navigate the many options out there, we have rounded up the 5 best wrist blood pressure monitors in the post for you:
QUICK RECOMMENDATIONS
Check out this quick list of our favorites if you're in a hurry, or continue scrolling to see our full top 5 list with in-depth reviews.
#1: OMRON Gold Wrist Blood Pressure Monitor (Best overall)
#2: MMIZOO Wrist Blood Pressure Monitor
#3: HealthSmart Digital Elite Wrist Blood Pressure Monitor
#4: HoMedics Automatic Wrist Blood Pressure Monitor
#5: Potulas Wrist Blood Pressure Monitor
Why Do You Need A Blood Pressure Monitor For Home Use?
Blood pressure is the force that blood creates when it pushes against the artery walls as it is pumped from the heart. If the pressure increases and stays high over a period of time, it can damage the body in many ways causing serious health problems. The ultra-dynamic modern life has been leading to unhealthy life style. With lots of junk foods and less exercises, we are building bigger health risk factors in our life. Our eating habit, too much stress, and other factors could increase our risk high blood pressure. Since hypertension or blood pressure is often referred to a silent killer and affects 1 of 4 Americans, it is important for us to detect any symptom of it to allow us get immediate treatment. This is the reason why we need to know what our blood pressure is and why a good blood pressure monitor is necessary in maintaining proper health.
What Is A Wrist Blood Pressure Monitor?
A wrist blood pressure monitor is a machine that we can use to measure their blood pressure levels in the comfort of your home. The Wrist blood pressure monitor has become quite popular because of their ease of use. People find it easier to apply a blood pressure cuff to their wrist than to their upper arm. Wrist blood pressure monitors are becoming more and more compact every year. The average device can easily fit into a purse or an overnight bag. The size of the monitor allows individuals to monitor their blood pressure at any time, anywhere. When the wrist blood pressure monitor is placed on around the wrist, getting a reading is as easy as pushing the 'start' button and waiting a matter of seconds. The Velcro cuff will either inflate around the wrist automatically or simply read the blood pressure. It is the easiest way to receive a fast and detailed reading.
While many upper arm cuffs have to be individually sized to each patient (often coming in sizes ranging from extra small to extra large), a standard wrist blood pressure monitor fits just about any wrist size.
Most wrist blood pressure monitors come equipped with a bright, easy to read, digital display screen. The large screen displays the systolic and diastolic readings, along with the average heart rate. Because of this, some monitors can not only tell you if your blood pressure is too high or too low, but also detect an irregular heart beat. A lot of the monitors will also store blood pressure readings, some up to 100 results, and possibly even average the last three tests for comparison. This allows for people to match up previous blood pressure readings with the most recent measurement. By doing so, you can be absolutely sure that your blood pressure has remained within a safe range and you and your health are in good hands.
Wrist BP monitors do not require a prescription or physician's note. Most wrist blood pressure monitors can be purchased at your local pharmacy, drug store, medical supply shop. Online dealers like Amazon or Walmart are also a great source for blood pressure monitors. Every shape, size, and model can be found somewhere online. When shopping around, be sure to choose a model that will fits snug on your wrist. The best thing about these convenient wrist monitors is that they are very affordable, often much cheaper than traditional arm cuff readers, travel well, and are a reliable way to keep an eye on your health on a daily basis.
Are Wrist BP Monitors Accurate?
Although the American Heart Association (AHA) does not recommend using wrist blood pressure monitors or finger blood pressure monitors, wrist blood pressure monitors are quite accurate when used correctly. There are two main reasons why the AHA only recommends using a home upper arm blood pressure monitor. The first reason is because wrist BP monitors are extremely sensitive to body position. You must position your arm and wrist even with heart level. Some wrist blood pressure monitors even come equipped with positioning sensors. This function increases the accuracy of each reading. Even then, blood pressure measurements taken at the wrist are usually less accurate than those taken at your upper arm due to the anatomy of your wrist itself. The second main reason is because the wrist arteries are narrower and sit closer to the skin than those in your upper arm. This makes it a little more difficult to get an accurate reading on your wrist.
Even though there is accuracy issue, it doesn't mean that wrist blood pressure monitors are bad choices. Wrist blood pressure monitors still have strong value such as its compact size and conveniently. In addition, some individuals can not have their blood pressure measured at the upper arm because they have a very large arm or can't tolerate it because they find arm cuffs very painful. In these cases, measuring blood pressure at the wrist is a great option and acceptable. Moreover, most wrist blood pressure monitors today are equipped with positioning sensors to help adjust arm and wrist position at the heart level giving it much accurate blood pressure measurement.
Tips to Get the Most Accurate Reading from your Wrist Blood Pressure Monitor
One thing to keep in mind, is that wrist blood pressure monitors are often more sensitive to body position. Unless your device comes equipped with an advanced precious sensor function, you will have to monitor your wrist and arm's position carefully. Most models require the wrist to be even with heart level when a reading is taking place. By doing this, you can ensure that your blood pressure reading is of the highest accuracy possible. Other ways to get the most accurate reading from your wrist blood pressure monitor are:
Using a properly snug cuff at heart level
Take deep breaths before testing
Sitting in an up right position, or comfortably laying flat
Try to relax as much as possible during the short calculating time
By following these easy steps, you can ensure that your wrist blood pressure monitor is operating at full accuracy.
Since the wrist blood pressure monitor is available to you at home or any time you take it along with you, the best way to ensure the most accurate readings is to test several times a day. Time of day, heart level, exercise and what foods you eat can affect your readings throughout the day. By testing your blood pressure multiple times over the course of 24 hours, you can average the readings and monitor the levels more accurately.
If you have any doubt in your wrist blood pressure monitor, feel free to take it along with you to your next physician's appointment. Have your physician, nurse or medical assistant (MA) read your blood pressure, then immediately follow up with another reading with the wrist monitor. The two readings should be very similar, especially if using one of the latest, automatic wrist blood pressure monitors. If the readings are off by a bit, ask your nurse or doctor to show you the correct way to hold your arm and wrist while measuring your blood pressure.
If you are looking to purchase a wrist blood pressure monitor, here are the best 5 wrist blood pressure monitors:
1. OMRON Gold Wrist Blood Pressure Monitor

-7%
3 new from $66.99

Free shipping
Last update was on: September 23, 2023 1:42 am
The OMRON Gold Wrist Monitor provides unlimited memory and stores 200 total blood pressure readings for 2 users. The OMRON Gold Wrist Monitor also works with the OMRON Connect free app.
Doctor and pharmacist recommended brand of blood pressure monitors.
The high morning average indicator alerts the user if systolic or diastolic measurements are out of normal range in the morning, when there is a higher risk for heart attack or stroke. This feature is unique to the Gold and Platinum series monitors.
PROS:
Stores up to 100 readings for two separate users (200 readings total)
Heart zone guidance to help guide your wrist to the proper position for improved accuracy
Mobile app for tracking and sending data
Heart rate and irregular heartbeat tracking
Cuff Wrap Guide to let you know if the cuff is wrapped too loosely on your wrist
CONS:
More expensive than some other monitors
Not rechargeable
---
2. MMIZOO Wrist Blood Pressure Monitor


-50%
6 new from $19.99

Free shipping
Last update was on: September 23, 2023 1:42 am
Easy and Fast Reading: Easy to read with a large LCD display and clear voice broadcast, you can get readings within 45 seconds.
Dual users: Support 2 users and 99 measurements each, allow you to keep track healthy status of your family.
Accurate & Well-made: Each blood pressure cuff wrist has been tested and verified to ensure accurate measurements professionally; high-quality materials provide strength and durability of the blood-pressure monitor.
PROS:
2 users mode function allows each user to store up to 99 memory readings separately
A voice broadcast function that will tell you the reading's result after measurements.
Comes with a carrying case that offers safe storage and transportation
Features LCD digital display that ensures crystal clear and easy readings
Can detects irregular heartbeat
---
3. HealthSmart Digital Elite Wrist Blood Pressure Monitor

9 new from $44.90

Free shipping
Last update was on: September 23, 2023 1:42 am
CLINICALLY ACCURATE TALKING BLOOD PRESSURE MONITOR, for at home, or on the go for easy to read accurate readings
DIGITAL BLOOD PRESSURE MONITOR WITH IRREGULAR HEARTBEAT DETECTION to help identify arrhythmias or palpitations by instantly comparing measurements to internationally established standards for home blood pressure use by using the Visual BP Guide
AUTOMATIC BP MACHINE MONITORS PULSE RATE to see how well the heart is working. Helps in finding out if the heart is pumping enough blood to identify symptoms, such as irregular or rapid heartbeat, dizziness, fainting, chest pain, or shortness of breath
PROS:
Wrist monitor can be adjusted to fit between 5.3 and 8.5 inches
Up to 2 users can record and store a total of 120 readings
Ability to catch an irregular heartbeat
Comes with a hard storing case
CONS:
Seems to run through batteries quickly
Monitor is a bit heavy while wearing
---
4. HoMedics Automatic Wrist Blood Pressure Monitor

-7%
2 new from $24.99

Free shipping
Last update was on: September 23, 2023 1:42 am
SMART MEASURE TECHNOLOGY – Delivering a personalized, accurate and comfortable measurement, this digital blood pressure monitor features advanced technology to automatically inflate and deflate at the appropriate level.
MEMORY FOR 2 – Designed to hold memory for 2 users, this portable blood pressure monitor stores up to 60 readings for 2 users (30 per user). Additionally, each user can view their last 3 average blood pressure readings.
PROS:
Can detects irregular heartbeat
Excessive body motion sensor detection to ensure accurate reading
Affordable
an adjustable wrist cuff
A portable storage case
One-Touch operation with Smart Measure Technology
An automatic shut-off feature
Memory storage for two users
CONS:
Has a shorter length cuff than some other monitors
The Manual's printed text may be too small to read for some individuals
---
5. Potulas Wrist Blood Pressure Monitor

-33%
1 new from $19.99

Free shipping
Last update was on: September 23, 2023 1:42 am
Dual users mode -- The digital blood pressure monitor can stores 90 sets measurements for 2 users (totally 180 sets) of each result with WHO target, date and time. Simple to keep track of your blood pressure everyday and recall the most recent 90 historical readings that record your health status.
⚡USB Rechargeable and portable design -- potulas wrist blood pressure monitor Built-in 300 mAh battery, it can be used continuously for 15-20days after fully charged, No need to replace the battery, saving money. Package come with a plastic storage box, you can take the digital bp wrist cuff in it after use.
PROS:
Easy to Set up
The ability to share results/readings with friends, family and health care providers
Health recommendations from the American Heart Association (AHA)
Inexpensive
Voice broadcast of readings
Built-in memory stores 90 readings for two separate users (180 readings total)
Pulse and irregular heartbeat tracking
Color indicator for assessing pressure
Rechargeable
CONS:
Takes longer to perform readings than some other monitors
---
All information provided by HighBloodPressureHub.com is of a general nature and is furnished for educational purposes only. You should not rely on this information as a substitute for, nor does it replace, professional medical advice, diagnosis, or treatment. If you have any concerns or questions about your health, you should always consult with a physician or other health-care professional. Do not disregard, avoid or delay obtaining medical or health related advice from your health-care professional because of something you may have read on this site. YOU ARE ENCOURAGED TO CONFER WITH YOUR PHYSICIAN OR HEALTHCARE PROVIDER WITH REGARD TO INFORMATION CONTAINED ON OR THROUGH THIS WEB SITE. AFTER READING ARTICLES OR OTHER CONTENT FROM THIS WEB SITE, YOU ARE ENCOURAGED TO REVIEW THE INFORMATION CAREFULLY WITH YOUR PROFESSIONAL HEALTHCARE PROVIDER. The use of any information provided on this site is solely at your own risk.