What Is The Most Accurate Blood Pressure Monitor For Home Use in 2022?
(Note: Some of the links in this post are affiliate links, and we will be compensated when you make a purchase by clicking through our links at no additional cost to you.)
What Is The Most Accurate Blood Pressure Monitor For Home Use in 2022?
Trying to choose a blood pressure monitor for use at home can seem overwhelming. There is a wide range of blood pressure monitor machines available on the market – all of them claiming to have advantages over each other. So – how do you choose the most accurate blood pressure monitor for home use? More importantly, do you even need to monitor your blood pressure at home?
To help you navigate the many options out there, we have rounded up the most accurate blood pressure monitors in the post for you:
QUICK RECOMMENDATIONS
Check out this quick list of our favorites if you're in a hurry, or continue scrolling to see our full top 5 list with in-depth reviews.
#1: OMRON Platinum Blood Pressure Monitor (Best overall)
#2: OMRON Evolv Blood Pressure Monitor
#3: Lazle JPD-HA101 Blood Pressure Monitor
#4: Greater Goods Blood Pressure Monitor
#5: A&D Talking Blood Pressure Monitor
Do You Need to Monitor Your Blood Pressure At Home?
This is really the first question that you need to ask yourself. Do you really need to check your blood pressure at home on a regular basis or is it enough to have your physician check it every once in a while? The evidence is now pretty convincing that if your physician or other medical provider checks your blood pressure then your blood pressure reading is likely to be quite a bit higher than if you check it yourself at home.
This rise in blood pressure when faced with a physician is sometimes called white coat syndrome or white coat hypertension – hypertension is just another name for high blood pressure. A healthy blood pressure reading is around 120/80 mm Hg. Anything above this is considered high blood pressure.
Some physicians or hospitals make use of sophisticated machines which can record a whole series of blood pressure readings in a 24 hour period – called twenty four hour ambulatory monitoring. Recording blood pressure this way gives a very clear picture of what your true blood pressure is doing but it may not always be required unless your blood pressure is proving very hard to control.
In general – provided you can afford to buy the blood pressure monitor, and providing you don't get too obsessive about small variations in the readings, then having a home blood pressure monitor is a good idea. You can quickly learn to build up a blood pressure chart of your own readings from the blood pressure machine and this may help you and your physician plan your treatment more effectively.
Many people who purchase a home digital blood pressure monitor feel that it gives them a greater sense of involvement in their own healthcare. Others simply get panicky when the readings show a normal and natural variation from day to day. If you buy a blood pressure monitor then try to get into the habit of checking your blood pressure reading at or around the same time every day – this will tend to improve the reliability of the results.
What kind of blood pressure monitor should you buy?
In general our advice would be to buy the best that you can afford. It's your long-term health we're discussing and it's important to take that seriously. The blood pressure monitors that are now available to buy are for the most part quite accurate. The mid to high range digital blood pressure monitors are often used in hospital departments or by family doctors and have been carefully tested for accuracy and reliability.
Some of the manual versions (the blood pressure cuff is inflated by hand) tend to lose their accuracy over time. Make sure that the blood pressure cuff fits your arm. One of the key things when measuring blood pressure is to choose a cuff that fits comfortably all the way round your arm.
If the cuff is too tight then the blood pressure monitor will return a reading that is higher than the true reading. At the press of a button on the automatic blood pressure monitor the blood pressure cuff will inflate to a certain level and then automatically deflates again. There is a sensor in the blood pressure cuff that automatically detects the rate of your heart and measures your blood pressure reading.
The result will be displayed on a screen with the higher number showing your systolic blood pressure and the lower number showing your diastolic blood pressure. Before checking your blood pressure you should have rested sitting down for at least five minutes. Make sure that you line up the arrow on the cuff with the pulse at the crease in front of your elbow – ask your physician to show you how to do this if you are not sure.
The blood pressure monitor machine will have a built in function to alert you if an error occurs with your reading.
Upper arm digital blood pressure monitor
These blood pressure monitor machines usually come out as being most accurate and most reliable in independent tests. The blood pressure cuff goes around the upper part of your arm with the arrow to the front over the artery pulse at the front of your elbow crease.
Wrist or finger digital blood pressure monitor
Some experts think that these are less reliable than the upper arm version. The readings can be sensitive to movement or to changes in body temperature. However, the newer and more expensive wrist blood pressure monitor models are improving their accuracy if used exactly as directed but are still generally not quite as accurate as the upper arm models.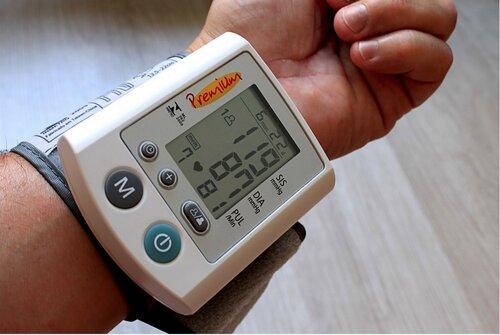 If you do decide to buy a digital blood pressure monitor then it is important to take it with you to your physician's office once a year or so and compare the reading it gets with your physician's machine. Also, one last tip: Please don't forget to change the batteries from time to time! You might end up feeling rather foolish if you do.
Although getting your blood pressure measured by a medical professional using a sphygmomanometer is going to give you the most accurate results, going to the physician's office for daily readings isn't really feasible. If you are looking to purchase the most accurate blood pressure monitor for home use, you have come to the right place. Here are the best 5 at home blood pressure monitors that are easy to use and give the most accurate readings when use properly:
1. OMRON Platinum Blood Pressure Monitor


1 new from $79.00

Free shipping
Last update was on: September 27, 2022 6:12 pm
The OMRON Platinum Upper Arm Monitor, complete with D-Ring cuff, provides unlimited memory, stores 200 total blood pressure readings for 2 users, works with the free OMRON Connect app, and is compatible with Amazon Alexa-enabled devices.
Doctor and pharmacist recommended brand of blood pressure monitors.
The high morning average indicator alerts the user if systolic or diastolic measurements are out of normal range in the morning, when there is a higher risk for heart attack or stroke. This feature is unique to the Gold and Platinum series monitors.
PROS:
Large, clear display
Stores 200 data sets per user
Bluetooth connectivity
Carrying case included
FDA-approved
Validated by the American Heart Association for clinical accuracy
CONS:
Machine sensitivity makes it prone to error messages
Slight learning curve to understanding the device
---
2. OMRON Evolv Blood Pressure Monitor


8 new from $104.99

Last update was on: September 27, 2022 6:12 pm
OMRON Evolv is our most portable upper arm monitor ever; Its compact, 1-piece design features simple, intuitive controls make it easy to set up and use
With advanced accuracy, our exclusive heart health algorithm, this innovative, upper arm 1-piece blood pressure monitor measures more data points and eliminates interference from movement for more precise, clinically accurate readings
Works with the free OMRON app that allows for unlimited users/readings and sharing results with family or healthcare providers; Compatible with the Amazon Alexa-enabled devices
PROS:
Sleek, lightweight design
Lightweight, cordless, and portable
Cordless, and portable
Bluetooth connectivity
FDA-approved
Validated by the American Heart Association for clinical accuracy
CONS:
One-piece feature makes it hard to read results
Can take two people to properly adjust onto arm
Monitor doesn't store readings (readings are only stored on the app)
---
3. Lazle JPD-HA101 Blood Pressure Monitor


-42%
2 new from $39.90

Free shipping
Last update was on: September 27, 2022 6:12 pm
✔️TOP RECOMMENDED BRAND BY DOCTORS & PHARMACISTS: Our Blood Pressure Monitor with custom-made large LED screens give you a great visual experience, making readings clearer and users can view the results more quickly. Clear large fonts and High-Def Backlit Screen offers clear reading at nighttime for advanced measurement experience.
☑HIGHEST ACCURACY: Fully automatic blood pressure checker has advanced measuring techniques, to provide you the most accurate reading. Convenient to track your health every day.
PROS:
Up to 100 readings per user
Alerts for incorrect use
Recommended by health professionals
CONS:
No mobile app
Batteries only
---
4. Greater Goods Blood Pressure Monitor


-6%
1 new from $44.88

Free shipping
Last update was on: September 27, 2022 6:12 pm
Everything You Need: Greater Goods blood pressure monitor kit comes with everything you need to make tracking heart health over time as simple as possible. Keep up with your systolic and diastolic blood pressure, as well as your pulse. Also, it's compatible with two users, storing up to 60 measurements for each.
A Monitor Made Right: A tried and true monitor, including a bright, back-lit display, large stop/start button, and an irregular heart rate detector. The Greater Goods monitor is the definition of what a BPM should be.
PROS:
Large, bright display
High accuracy
Comes with a carrying case
Inexpensive
CONS:
Low memory storage compared to other monitors
---
5. A&D Talking Blood Pressure Monitor


-18%
5 new from $77.25

Free shipping
Last update was on: September 27, 2022 6:12 pm
CLINICALLY VALIDATED FOR ACCURACY, the A&D Medical upper arm talking blood pressure monitor, with TriCheck averaging 3 readings for the best accuracy, 90 reading memory, movement sensor for best measurement technique. Includes AC adapter.
TRUSTED BRAND A&D Medical blood pressure monitors are recommended by doctors and pharmacists and is a registered FDA medical device.
EASY-TO-USE A&D Medical automatic upper arm blood pressure monitor has one-button operation. Simply, push the start button for your blood pressure measurement. Clearly displays your measurement on the large screen.
PROS:
FDA-approved
Loud, clear speaker
Carrying case included
Available in 3 languages
---
All information provided by HighBloodPressureHub.com is of a general nature and is furnished for educational purposes only. You should not rely on this information as a substitute for, nor does it replace, professional medical advice, diagnosis, or treatment. If you have any concerns or questions about your health, you should always consult with a physician or other health-care professional. Do not disregard, avoid or delay obtaining medical or health related advice from your health-care professional because of something you may have read on this site. YOU ARE ENCOURAGED TO CONFER WITH YOUR PHYSICIAN OR HEALTHCARE PROVIDER WITH REGARD TO INFORMATION CONTAINED ON OR THROUGH THIS WEB SITE. AFTER READING ARTICLES OR OTHER CONTENT FROM THIS WEB SITE, YOU ARE ENCOURAGED TO REVIEW THE INFORMATION CAREFULLY WITH YOUR PROFESSIONAL HEALTHCARE PROVIDER. The use of any information provided on this site is solely at your own risk.