11 Best Kitchen Appliances That Make It Easy to Prep Healthy Meals in 2023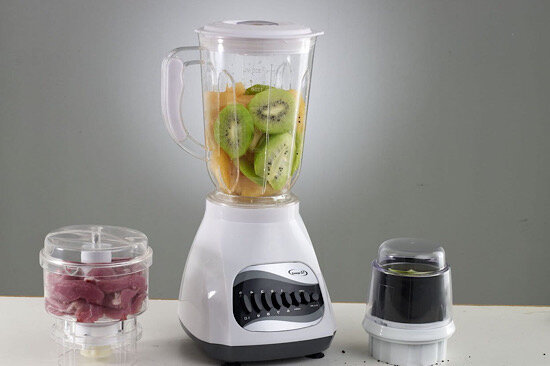 (Note: Some of the links in this post are affiliate links, and we will be compensated when you make a purchase by clicking through our links at no additional cost to you.)
Are you looking to upgrade your kitchen? Having the right kitchen appliances for your cooking and baking needs is important when you're trying to eat healthy. So, if you're serious about your nutrition and eating healthy, whether that's getting your daily dose of fruits and veggies or cooking at home instead of always opting for DoorDash, it's worth investing in some of these 11 Best Kitchen Appliances That Make It Easy to Prep Healthy Meals in 2023.
1) Food Processor:
Slice, dice chop and puree anything with the Ninja Professional BN601 9 cup food processor! It can handle just about anything you will put in it and holds enough for a normal family cook. If you entertain often and need to cook for larger parties, you may want to upgrade to the Cuisinart Elemental 13-cup food processor.
14 new from $89.99
12 used from $79.95
Free shipping
as of December 3, 2023 6:03 pm
2) Blender:
If you love smoothies as much as we do (which is a lot) you'll need a good blender! The Vitamix E310 Explorian Blender can whip up the smoothest smoothie in seconds. It's an investment, but you won't find a better-performing, more durable pick — there's nothing this blender can't do. If you are looking for a less expensive alternative, the Ninja Professional Countertop blender with to-go cups is a great option.
12 new from $289.99
Free shipping
as of December 3, 2023 6:03 pm
3) Mixer:
If you enjoy baking, you need a quality mixer. You can use it for breads, batters and even more! We love the KitchenAid Artisan 5-QT. It works quietly but can tackle just about anything and it comes in a variety of beautiful color options.
4) Slow Cooker:
Busy moms LOVE slow cooker meals. Throwing ingredients into a slow cooker in the morning means a hassle-free evening and a fully prepared meal when you get home that night. We recommend the Hamilton Beach Simplicity 6-Quart Slow Cooker. It is easy to use and will get the job done. When it's finished cooking, it will switch into a warming mode so you can serve your meal at any time.
2 new from $69.99
8 used from $55.00
Free shipping
as of December 3, 2023 6:03 pm
5) Toaster Oven:
Reheat, toast, bake and more in the Breville Mini Smart Countertop Toaster Oven! This toaster oven is compact enough not to take up too much counter space but still offers a great cooking experience.
8 new from $159.95
4 used from $106.06
Free shipping
as of December 3, 2023 6:03 pm
6) Rice Maker:
If you only cook rice occasionally, we recommend the Hamilton Beach Digital Programmable Rice Cooker/Steamer. It does everything you need to make a great side dish. If you are into more interesting types of rice and enjoy styles like sticky rice or rice porridge, you may want to consider the more expensive option of Zojirushi Micom Rice Cooker.
10 new from $169.99
8 used from $118.99
Free shipping
as of December 3, 2023 6:03 pm
7) Juicer:
A juicer is perfect for a healthy lifestyle because you can consume fruits and vegetables in their freshest form and take in all the nutrients, vitamins, and fiber. You can get creative with juicing by mixing together all your favorite fruits and vegetables into one drink! It's so convenient to have one of these in your kitchen for healthy, nutritious meals!
15 used from $169.45
Free shipping
as of December 3, 2023 6:03 pm
8) Digital Kitchen Scale:
What does an ounce of berries or cheese look like? I don't know either! Help yourself out by making recipes easier with foods that can't be measured in a cup. The Escali Primo Lightweight Scale will make eating in portions much easier!
1 used from $22.16
Free shipping
as of December 3, 2023 6:03 pm
9) Steamer:
This useful appliance will save you both time and energy when it comes to cooking. You can serve healthy and delicious dinners at home now. This Hamilton Beach Digital Food Steamer can cook a variety of foods from vegetables, grains, or seafood. This powerful steam quickly heats your food, and the device is easy to monitor and use.
2 new from $39.99
10 used from $32.46
Free shipping
as of December 3, 2023 6:03 pm
10) Avocado Slicer:
If you're an avocado lover, this is the perfect gadget for you! The OXO Good Grips 3-in-1 Avocado Slicer will make your avocado slicing so much easier for days when you're in a hurry! Slice, scoop, and remove is this gadgets specialty, and we promise you will love it!
8 new from $11.31
3 used from $10.89
Free shipping
as of December 3, 2023 6:03 pm
11) Salad Spinner:
This OXO Good Grips Large Salad Spinner is great for not only spinning salads but even washing fruits. And even in the water mess, the non-slip ring on the bottom is sure to stay tight on the table and keeps from a mess!
9 new from $29.95
10 used from $22.49
Free shipping
as of December 3, 2023 6:03 pm
What are your favorite kitchen gadgets or appliances? Share with us in the comments below!