5 Best DASH Diet Cookbooks in 2023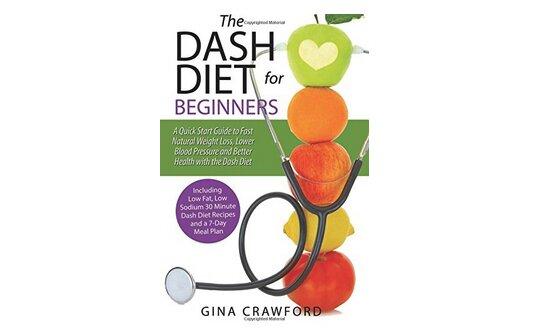 (Note: Some of the links in this post are affiliate links, and we will be compensated when you make a purchase by clicking through our links at no additional cost to you.)
What Are The Best DASH Diet Cookbooks in 2023?
High blood pressure or hypertension can lead to complication in other parts of the body because of the damage to the blood vessels and excessive pressure on the artery walls can damage your vital organs. The higher your blood pressure and the longer it goes uncontrolled, the greater the damage. A good way to help manage or reduce high blood pressure is by making simple changes in your diet. The DASH diet plan is a healthy way of eating that has been thoroughly tested in several large studies. It was even tested in several trials sponsored by the National Institutes of Health. The DASH diet menu has been scientifically proven to help people lose weight, lower their blood pressure and cholesterol and even improve mood and cognitive function. So what is the DASH diet? And what are the best DASH diet cookbooks?
QUICK RECOMMENDATIONS
Check out this quick list of our favorites if you're in a hurry, or continue scrolling to see our full top 5 list with in-depth reviews.
#2: DASH Done Slow: The DASH Diet Slow Cooker Cookbook
#4: The Quick & Easy DASH Diet Cookbook
#5: The Dash Diet Weight Loss Solution
What Is The DASH Diet?
The DASH is an acronym for "Dietary Approaches to Stop Hypertension". It was created for a research study in the early 1990s to assist in lowering blood pressure. It can also prevent high blood pressure where people are susceptible to the condition and is recommended by the National Institutes for Health and the majority of doctors and nutritionists. One of the primary aims is to reduce sodium (salt) intake. Even slight elevations of blood pressure above the optimal level of less than 120/80 mm Hg are unhealthy. The higher the blood pressure above normal, the greater the health risk.
What Foods Are On The DASH Diet?
The DASH diet for high blood pressure concentrates on healthy eating. The DASH diet requires you to eat food with a low amount of salt (sodium). Your daily food planning should involve meals that are filled with nutrients like calcium, potassium and magnesium. These types of nutrients help lower blood pressure, helping you avoid hypertension, weight gain and a lot of illnesses associated with hypertension including heart attacks and strokes. The DASH Diet plan includes eating more the following food:
Fruits and vegetables.
Low-fat or nonfat dairy.
Beans.
Nuts.
What Foods Are Not Allowed on the DASH Diet?
Making good food choices about what you eat and drink will help you control your high blood pressure. In the DASH diet plan, you should watch out for fat, cholesterol and sodium. Here are some foods that are not allowed on the DASH diet, or to use lightly:
Salad dressings, mayonnaise.
Fatty meat.
Whole milk and whole milk products, including sour cream, butter and cheese.
Soy sauce.
Canned food.
Frozen dinners.
Chips.
Salted nuts.
Sodas.
Sugary beverages.
Candy.
Cookies.
How Long Before I Start To See My Blood Pressure Go Down on DASH Diet?
Studies have shown that you should be able to see your blood pressure lower in less than two weeks. As you continue to eat food allowed by the DASH diet, you should see your blood pressure drop up to 14 points. This immediately lowers your chances of acquiring diseases like heart attacks.
What Other Health Benefits Does The DASH Diet Provide?
The food allowed by the DASH diet plan are very healthy food so the health benefits are plenty. In addition to lower your blood pressure, this diet can also lower low-density lipoprotein (LDL or "bad") cholesterol levels in the blood. You can significantly lower your chances of cancer, heart disease, stroke, diabetes and more under the DASH diet.
Can I Lose Weight With The DASH Diet?
While the initial and main goal of the designers of this diet isn't weight loss, you can indeed shed pounds. Food high in salt usually contain a lot of calories as well. Since the meals you plan under this diet involve healthy and "non-junk" food, you will find your eating habits improve and weight loss can definitely be a great side effect.
The DASH diet for high blood pressure maybe difficult to follow in the beginning. When you decide to start the dash diet for high blood pressure, you are committing yourself to making incredible changes to your lifestyle. For someone who has maintained poor dietary habits it will take some big adjustment, however, determination will go along way and assist you in making these lifestyle changes to allow you to live a healthier, longer life. Just keep in mind that you are participating in the DASH diet for high blood pressure so that you can be around your loved ones for years to come.
For those who are seriously considering the DASH diet for high blood pressure, there are many great DASH diet cookbooks out there to help you follow this diet. Here are the 5 Best DASH Diet Cookbooks:
1. The Dash Diet Health Plan
In The DASH Diet Health Plan, best-selling health and nutrition author John Chatham compiles the findings of the medical and scientific community, alongside dozens of DASH diet recipes, to make it easy to put the DASH diet into action.
8 new from $6.00
34 used from $1.90
Free shipping
as of June 9, 2023 4:34 am
PROS:
Very comprehensive DASH diet lifestyle change book
99 recipes for all meals
Suggested DASH-friendly foods
Includes a 28-day workout plan and menu planner
CONS:
Recipes lack nutritional breakdown
Some people feel the recipes are too high in sodium for DASH
---
2. DASH Done Slow: The DASH Diet Slow Cooker Cookbook
Following the DASH diet doesn't mean giving up your favorite flavors and recipes. With DASH Done Slow, you'll discover a DASH diet cookbook designed to help you follow the principles of the DASH diet while still enjoying satisfying, slow-cooked meals—from familiar comforts to surprising twists.
22 new from $8.37
46 used from $2.30
Free shipping
as of June 9, 2023 4:34 am
PROS:
Easy to read
Packed with 100 delicious, healthy and variety of recipes
Techniques are explained well
Tips on best usage of slow cookers
CONS:
Some recipes don't work well for all users
Others bemoan the lack of photos
---
3. The DASH Diet For Beginners
In a step-by-step way, The DASH Diet for Beginners is going to teach you everything you need to know about how to successfully apply the DASH diet to your life.
2 new from $9.59
22 used from $1.50
Free shipping
as of June 9, 2023 4:34 am
PROS:
Great explanation and introduction to the DASH Diet
Helps you understand how to make food and lifestyle choices that comply with DASH – tips such as focusing on smaller portions and lowering sodium
Easy and straightforward, clear and informative
CONS:
Some users found the info too basic and elementary
---
4. The Quick & Easy DASH Diet Cookbook
Easily add fresh DASH diet meals to your daily life with The Quick & Easy DASH Diet Cookbook. This Cookbook will show you how to make fast and tasty meals that can improve your heart health and lower your blood pressure.
2 new from $9.99
10 used from $2.80
Free shipping
as of June 9, 2023 4:34 am
PROS:
Easy and straightforward recipes that are designed to be made in 30 min. or less
77 easy to follow recipes
Bonus meal planning and grocery shopping tips
Tips and advice on how to maximize flavor and taste in healthy recipes
CONS:
Some people complain that the cookbook is a little dry, without much personality
---
5. The Dash Diet Weight Loss Solution
Using the newest DASH diet research, bestselling author, foremost DASH dietitian and leading nutrition expert Marla Heller has created the most effective diet for quick-and lasting-weight loss. This is the only book to bring you the latest updates for the DASH diet, integrated with the latest weight loss research, which work synergistically to maximize results. This effective and easy program includes menu plans, recipes, shopping lists, and more. Everything you need to lose weight and get healthy!
28 new from $10.39
43 used from $3.61
Free shipping
as of June 9, 2023 4:34 am
PROS:
The plan in this cookbook is easy to follow – not just for weight loss but to retrain you on how to eat healthier
CONS:
Some people disapprove of low-fat and nonfat foods, which may be highly processed
Some people disapprove the inclusion of artificial sweeteners as part of the diet
The initial 2 weeks can be very difficult for people and cause low energy
---
All information provided by HighBloodPressureHub.com is of a general nature and is furnished for educational purposes only. You should not rely on this information as a substitute for, nor does it replace, professional medical advice, diagnosis, or treatment. If you have any concerns or questions about your health, you should always consult with a physician or other health-care professional. Do not disregard, avoid or delay obtaining medical or health related advice from your health-care professional because of something you may have read on this site. YOU ARE ENCOURAGED TO CONFER WITH YOUR PHYSICIAN OR HEALTHCARE PROVIDER WITH REGARD TO INFORMATION CONTAINED ON OR THROUGH THIS WEB SITE. AFTER READING ARTICLES OR OTHER CONTENT FROM THIS WEB SITE, YOU ARE ENCOURAGED TO REVIEW THE INFORMATION CAREFULLY WITH YOUR PROFESSIONAL HEALTHCARE PROVIDER. The use of any information provided on this site is solely at your own risk.