7 Best Fitness Trackers in 2023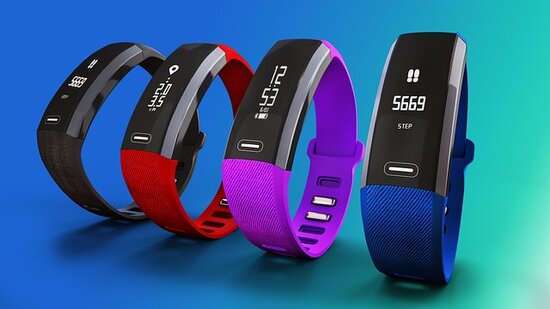 (Note: Some of the links in this post are affiliate links, and we will be compensated when you make a purchase by clicking through our links at no additional cost to you.)
What Are The Best Fitness Trackers in 2023?
Most people find losing weight and getting in shape incredibly hard. Why is that? From my experience, the number one reason for this is lacking the ability to track their progress. Buying the best fitness trackers will give you just that! Seeing how much activity you do (or do not) get, day-by-day and week-by-week, can motivate you to start taking the stairs more or walking the dog an extra lap around the block. At the very least, it will make you more mindful of your present activity level.
Without tracking your results you simply don't know how much progress you've made so it is easy to give up once you hit your first "brick wall." Gadgets, such as fitness trackers, will track how many calories you burn, monitor your sleeping habits and aggregate all this data into a smartphone app so you can monitor your progress, set goals and achieve them!
QUICK RECOMMENDATIONS
Check out this quick list of our favorites if you're in a hurry, or continue scrolling to see our full top 7 list with in-depth reviews.
#1: Fitbit Charge 5 (Best overall)
#2: Amazfit Band 5 (Best budget)
#3: Fitbit Sense
#4: Fitbit Inspire 2 (Best for beginners)
#6: Apple Watch Series 8 (Best for iPhone users)
#7: Samsung Galaxy Watch 4 (Best for Android phone users)
Why Buy an Activity Tracker?
Finding the time, motivation and energy to workout is difficult, but it is much simpler with a fitness tracker. Whether you spend most of your time sitting on the couch or are training for a marathon, a fitness tracker helps you take that next step. If you're starting from square one, exercising with an activity tracker helps you replace bad habits with healthy ones. Fitness trackers support fitness and healthy weight loss by helping you achieve small, frequent success, whereas fad diets and radical lifestyle changes rarely work because they're too drastic.
If you already have a successful workout regime, fitness trackers keep an accurate record of your daily progress so you work harder and smarter. They also help you find daily motivation to improve by encouraging you with vibrating notifications, smart adaptive goals and coaching tips.
How Does A Fitness Tracker Work?
Instead of having to estimate your activity level on your own, a fitness tracker does the heavy lifting for you. It uses an accelerometer to accurately track your steps and movement metrics, and it is customized to your body type and activity levels. Similar to how your body reacts in a moving car, an accelerometer can sense movement and force, including forward, backward and side-to-side movement. Fitness trackers take this information then interpret it into a number of steps.
Most smart wearable technology now has some form of fitness monitoring. There are even smartphone apps that track how many steps you take in a day. All of the compared activity trackers in our review are wrist devices dedicated to total fitness tracking. While fitness and sleep trackers are the best at tracking your overall fitness levels, other wearable devices can track your health and life. Some smart wearables track your steps or heart rate, but they are less accurate than a dedicated fitness tracker.
While more expensive than fitness trackers, smartwatches are great for checking the weather or text messages. Even though they have fitness tracking features, they also have so many other features that they're more difficult to use purely for fitness purposes. When you only have a 10 second window at traffic light to check your heart rate, it is inconvenient to push aside new emails on a tiny screen.
If you're looking to compare fitness trackers on a budget, pedometers are less expensive and great for simple exercises, namely walking. However, fitness trackers do more than step tracking to give you a better, more rounded view of your fitness and health. Unlike pedometers, fitness trackers can help you meet fitness goals by adapting to your habits, wirelessly syncing weeks and months of data, and nudging you with silent vibrating alarms if you've been sitting too long.
Instead of solely tracking your daily steps, heart rate monitor watches are dedicated to monitoring your heart rate either passively throughout the day or actively during high-intensity workouts. While most do track steps and other metrics, heart rate monitor watches must be worn a certain way to guarantee accuracy. Wrist-based heart rate monitors need to be the right amount of snug and fit exactly above your wrist bone for the best readings. Chest strap monitors need to be worn at the base of your sternum and the sensor needs to be slightly wet to work properly. Some of these devices do double duty and act as activity trackers with heart rate monitors. Fitness trackers are more versatile in their tracking methods and features.
What Else Is Important in Selecting a Fitness Tracker?
In addition to accuracy, sleep tracking and a great app, it's important to choose a top-rated fitness tracker with the best monitoring and connectivity features, along with the best design. Each device has its own special recipe for tracking and monitoring, so the following points can guide you to the best device for your unique fitness needs.
Progress Monitoring: Setting and Keeping Goals Equals Progress
Why buy a top activity tracker if you're not going to improve your fitness? Setting and meeting goals over time is one of the healthiest ways to lose weight or get fit. Fitness trackers ask you to set or adjust goals based on your daily habits. When you meet your goals, vibrating alarms or congratulatory notifications motivate you to keep up the good work. If you aren't meeting your goals, nothing is more motivating than having a wristband vibrate to let you know you've been sitting too long and keep vibrating until you get up and move around.
Connectivity: Apps, Apps and More Apps
The top fitness trackers also have the top apps. Each of the exercise trackers we reviewed works with a free app from the manufacturer that displays your daily metrics such as how many steps you've taken and how many calories you've burned.
The best of the best fitness trackers connect to any fitness app. This is nice if you already track your runs or hikes or count calories. With this feature, you can continue using your favorite app with your new fitness tracker but gather more accurate and efficient data than before.
All of the wireless activity trackers we reviewed have Bluetooth syncing, but some require that you manually sync, while others automatically sync every time you open the app. Either way, all of your data is wirelessly uploaded and backed up.
Design: Long Battery and Lightweight Bands
While a screen keeps you up to date on your progress, it can also drastically drain the battery. Most batteries last through the work week before needing a charge, but some devices have coin cell batteries that last weeks or months.
The best exercise trackers can be worn many different ways, depending on your preference. You can wear a wristband similar to a watch strap or a thin bracelet, or you can wear a clip-on fitness tracker. You can even carry your device around in your pocket. However, heart rate fitness trackers can only be worn on your wrist.
Also, the lighter the device, the easier it is to wear. Try to find one that weighs less than 30 grams if you have small wrists. The best fitness tracker wristbands are waterproof up to at least 3 ATM or 30 meters under water, so you can track your morning swims or your beach vacations.
The fitness trackers on the market today are much smarter, more accurate, and do a whole lot more than measure how much you walk. Paired with a companion web account, mobile app, and maybe a few auxiliary devices, they can give you better insight into the habits that make up your lifestyle. These include sleep, calorie consumption, heart rate, blood pressure, and more.
So whether your health goals are modest or you're seeking a full fitness transformation, using a personal fitness tracking device can go a long way toward helping you understand if the exercise and health habits you keep are contributing to the new you. Here are the 7 best and most accurate fitness trackers:
1. Fitbit Charge 5
Redefine your routine with the Fitbit Charge 5 health and activity tracker. On top of the fitness tracking you've come to love, the Charge 5 introduces more ways to sweat the smart way, including built-in GPS for real-time pace and distance to Active Zone Minutes to help you reach your optimal intensity level. From Fitbit.

-6%
10 new from $139.95

Last update was on: December 3, 2023 5:55 pm
Optimize your workout routine with a Daily Readiness Score that reveals if you're ready to exercise or should focus on recovery (Requires Fitbit Premium membership). Compatibility-Apple iOS 15 or higher, Android OS 9 or higher .Operating Temperature : -10°C to + 45°C.Radio transceiver : Bluetooth.
Get a daily Stress Management Score showing your body's response to stress and take steps to improve your levels with an on-wrist EDA sensor mindfulness session. Band Size:Sm: Fits wrist 5.1"- 6.7" . Lrg: Fits wrist 6.7" - 8.3" in circumference
PROS:
Bright, always-on display
Fast connecting GPS
Addition of an ECG monitor which tracks your heart's rhythm and electrical activities
Attractive design with metal case
Automatically tracks certain activities
Excellent companion mobile app
Robust stress management and sleep tracking features
Supports mobile payments
CONS:
No Spotify support
Limited exercise shortcut list
Clock faces aren't customizable
Lack of buttons on the Fitbit makes usability frustrating
---
2. Amazfit Band 5
Looking for a budget fitness band to slap on your wrist? The Amazfit Band 5 deserves careful consideration. The brand-new 1.1" full-touch color AMOLED screen provides bigger and clearer viewing experience. Measure your blood oxygen saturation, stress levels, heart rate and monitor your sleep quality throughout the day at any time.

-29%
2 new from $28.23

Free shipping
Last update was on: December 3, 2023 5:55 pm
AMAZON ALEXA BUILT-IN: Talk to Amazon Alexa on your Amazfit Band 5. Ask questions, get translations, set alarms, and timers, create shopping lists, check the weather, control your smart home devices, and more..Bluetooth : Version 5.2
15-DAY BATTERY LIFE: Say goodbye to daily recharge. With a fully charged Amazfit Band 5, you don't need to bring a charger for a two-week trip. On a single charge, it has enough power to get you charged for 2 whole weeks mind-free.
PROS:
Affordable
Lightweight, comfortable design
Actionable sleep tracking
2 week battery life
Stress monitoring
Built-in Alexa support
CONS:
Display can be hard to see in bright sunlight
Touch display wasn't always responsive
Display size makes it hard to read small text
---
3. Fitbit Sense
Meet Fitbit Sense—the advanced health smartwatch that helps you tune in to your body and guides you toward better health. Assess your heart for AFib right from your wrist, detect and manage stress, better understand your sleep quality and even keep an eye on patterns in your skin temperature or well-being with SpO2.

-20%
18 new from $180.00

7 used from $124.00

Last update was on: December 3, 2023 5:55 pm
EDA Scan app detects electrodermal activity which may indicate your body's response to stress and a built-in skin temperature sensor logs yours each night so you can see when it varies.Band Size : Small : Fits wrist 140mm - 180mm in circumference. Large : Fits wrist 180mm - 220mm in circumference
Assess your heart for atrial fibrillation –a heart rhythm irregularity- and easily share results with your doctor (The Fitbit ECG app is only available in select countries. Not intended for use by people under 22 years old.Operating temperature: 14° to 113°F
PROS:
Long battery life
Comprehensive fitness/health features
Attractive design with large, always-on color display
Excellent battery life
Measures blood oxygen level
Features an ECG app
Robust stress management and sleep tracking features
Supports Amazon Alexa, Fitbit Pay, Spotify
CONS:
No Spotify storage
Pricy
Touch screen responsiveness could be better
Band release latch can be accidentally triggered
You need Fitbit Premium to maximize it
---
4. Fitbit Inspire 2
Make healthy a habit with Fitbit Inspire 2. Start your health & fitness journey with this slim, easy-to-use tracker for your daily activity, sleep & heart with up to 10 days of battery.

-6%
15 new from $62.99

1 used from $69.99

Free shipping
Last update was on: December 3, 2023 5:55 pm
Optimize your workouts with a Daily Readiness Score that reveals if you're ready to exercise or should focus on recover (requires Fitbit Premium membership. Premium content recommendations are not available in all locales and may be in English only)
Earn active zone minutes as you progress toward your weekly 150 minutes of heart-pumping activity and use 20+ exercise modes to track goals like distance, calories burned and more
PROS:
Slim, lightweight design
Accurate sleep-tracking
Affordable
Tracks heart rate variability and sleeping respiration
Automatically tracks certain activities
Comes with one year of Fitbit Premium
CONS:
Small display
No built-in GPS
---
5. Garmin Vivomove Sport
This Garmin Vivomove Sport hybrid smartwatch combines the traditional look of an analog watch with the essential smart features you need to keep up with your busy life. Not just a pretty face, the Vivomove Sport gives you the ability to track ten different activities, as well as your sleep, hydration, and menstrual cycle from your wrist.

10 new from $179.99

Free shipping
Last update was on: December 3, 2023 5:55 pm
Stylish 40 mm hybrid smartwatch with timeless analog look and smart features
Battery life: up to 5 days in smart mode and up to one additional day in watch mode (hands tell time only)
Stay connected with smart notifications for incoming calls, text messages, calendar view and more when paired with your compatible smartphone
Know your body better with extensive health monitoring features, including Body Battery energy levels, Pulse Ox, advanced sleep monitoring, stress tracking, women's health tracking and more (this device is intended to be an estimation of your activity and metrics; it is not a medical device and is not intended for use in the diagnosis or monitoring of any medical condition).
PROS:
Stylish, lightweight design
Female health tracking
Breathwork activities for stress relief
Can be used as a watch, no phone required
CONS:
No in-built GPS
Battery life is only average
OLED screen is low resolution
---
6. Apple Watch Series 8
The Apple Watch Series 8 has 14 different quick-start workout modes, which include running, cycling, walking, and strength training, plus you have the option to add new workouts in the Workout app. Apple has also launched Apple Fitness Plus, which gives you access to hundreds of workouts.

-28%
3 new from $287.25

3 used from $280.53

Free shipping
Last update was on: December 3, 2023 5:55 pm
WHY APPLE WATCH SERIES 8 — Your essential companion for a healthy life is now even more powerful. Advanced sensors provide insights to help you better understand your health. New safety features can get you help when you need it. The bright, Always-On Retina display is easy to read, even when your wrist is down.
EASILY CUSTOMIZABLE — Available in a range of sizes and materials, with dozens of bands to choose from and watch faces with complications tailored to whatever you're into.
PROS:
Larger display
Brighter always-on mode
QWERTY keyboard
Comes with USB-C magnetic charger
Has ECG function
Crash detection
Skin temperature reader for cycle + sleep tracking
CONS:
Expensive
Workouts are varied, but basic
Battery life needs to be longer (only one day)
---
7. Samsung Galaxy Watch 4
Crush your wellness goals with the first smartwatch to measure body fat, skeletal muscle, body water, body mass index and more. There's a 3-in-1 health sensor for measuring heart rate, taking ECGs and reading body composition – in fact, it's the first major smartwatch to offer bioelectrical impedance analysis (BIA), to help you manage your health goals.

1 new from $224.99

13 used from $184.85

Free shipping
Last update was on: December 3, 2023 5:55 pm
BODY COMPOSITION ANALYSIS: Galaxy Watch4 is the first smartwatch to off body composition data right on your wrist, On your own schedule, now you can get readings on body fat, skeletal muscle, body water, basal metabolic rate, and Body Mass Index.Supported Application:Heart Rate Monitor,Sleep Monitor,Fitness Tracker. Connectivity technology:LTE,Bluetooth,GPS. Wireless comm standard:Bluetooth
BETTER SLEEP STARTS HERE: Wake up feeling refreshed and recharged with advanced sleep tracking; When you go to bed, your Galaxy Watch4 sleep tracker starts monitoring your sleep and SpO2 levels continuously
PROS:
Competitively priced
Bright, sharp display
Thinner than the Classic model
Fast processor
Wrist-based body fat and composition measurements
Tracks snoring
More third-party apps than previous Samsung watches
CONS:
One-day battery life
Third-party app selection still trails Apple's watchOS
---