Baba Ghanoush Recipe: A DASH Diet Delight for a Heart-Healthy You!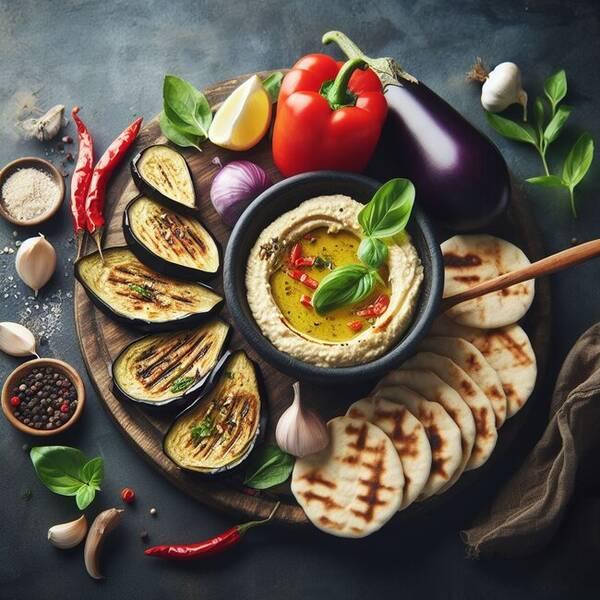 (Note: Some of the links in this post are affiliate links, and we will be compensated when you make a purchase by clicking through our links at no additional cost to you.)
Embark on a delicious voyage to heart health with our Baba Ghanoush Recipe: A DASH Diet Delight for a Heart-Healthy You! Today, we're immersing ourselves in the rich flavors of Baba Ghanoush – a mouthwatering Mediterranean masterpiece that not only delights your taste buds but also harmonizes effortlessly with the heart-healthy principles of the DASH Diet. It's the ideal addition to your repertoire of hypertension-friendly recipes, ensuring that every savory bite contributes to your well-being.
DASH Diet and Heart Health: A Perfect Blend
The DASH (Dietary Approaches to Stop Hypertension) Diet is renowned for its focus on reducing high blood pressure, and what better way to embrace it than with a mouthwatering Baba Ghanoush recipe! Packed with nutrient-rich ingredients, this dish boasts the perfect balance of flavors and textures to elevate your heart-healthy culinary experience.
>>> Read more: Experience the power of healthy eating made easy with this printable 7-Day DASH Diet Meal Plan, designed to nourish your body and simplify your journey to better eating habits. Click here.
Why Baba Ghanoush?
Baba Ghanoush is not just a tasty appetizer; it's a nutritional powerhouse. The star of the show, eggplant, is a low-calorie, high-fiber vegetable that comes with a host of health benefits. Grilling the eggplant and red bell pepper not only intensifies their flavors but also enhances their nutritional profile. This method retains essential nutrients while imparting a delightful smokiness to the dish.
A Symphony of Flavors in Every Bite
Picture this: smoky grilled eggplant, sweet roasted red bell pepper, and the subtle richness of roasted garlic all whirled together in a food processor. Add a burst of freshness with lemon juice and basil, a drizzle of heart-healthy olive oil, and a dash of black pepper – the result is a velvety, flavor-packed Baba Ghanoush that's as good for your taste buds as it is for your heart.
Grill to Thrill: A Heart-Healthy Cooking Technique
The beauty of this recipe lies not just in its delightful taste but also in the heart-healthy cooking technique – grilling. Grilling vegetables not only imparts a unique smokiness but also helps preserve their nutritional value. The high heat caramelizes the natural sugars, intensifying the flavors without sacrificing the essential nutrients your body craves.
>>> Immerse yourself in the transformative power of the DASH diet with these must-read books
Grilled Baba Ghanoush Recipe: A DASH Diet Delight for a Heart-Healthy You
Prep time: 25 minutes
Cook time: 30 – 40 minutes
Serves: 4 servings
>>> Read more: Discover the power of nutritious and delicious eating with the Mayo Clinic Diet's expertly crafted meal plan. Click here.
Ingredients
1 bulb garlic (about 8 cloves)
2 eggplants, sliced lengthwise, skin removed
1 red bell pepper, halved and seeded
Juice of 1 lemon (about 4 tablespoons)
1 tablespoon chopped fresh basil
1 tablespoon olive oil
1 teaspoon black pepper or to taste
2 rounds of whole-wheat pita or other flatbread
Instructions
Start by greasing the cold grill with cooking spray.
Preheat one side of the grill to high temperature, or if you're using charcoal, shift the coals to one side of the grill.
Prepare the garlic bulb by slicing off the top, wrapping it in foil, and then placing it on the cooler part of the grill. Let it roast for 20 to 30 minutes.
While the garlic is roasting, put the eggplant slices and bell pepper on the hot side of the grill. Grill each side for 2 to 3 minutes.
Once the garlic is done, squeeze the roasted cloves out of the bulb and transfer them to a food processor.
Add the grilled eggplant and red bell pepper to the food processor as well.
Pour in the lemon juice, basil, olive oil, and pepper. Pulse the ingredients until they form a smooth mixture.
Transfer the resulting dip into a serving bowl.
Lastly, place the rounds of whole-wheat pita or flatbread on the grill for just a few seconds on each side to warm them up.
Serve the warmed bread with the flavorful dip, and enjoy your delicious and heart-healthy Baba Ghanoush!
Nutrition Information (Per Serving) – Half a pita and 2 tablespoons dip
Calories: 233
Total Fat: 5g
Saturated Fat: 1g
Monounsaturated fat: 2.5g
Sodium: 150mg
Total Carbohydrates: 40g
Added Sugars: 0g
Sugars: 11g
Dietary Fiber: 12g
Protein: 7g
Cholesterol: 0mg
>>> Grab Your FREE e-book: "8 Ways To Lower Your Blood Pressure Without Medication" to empower yourself with the knowledge to lower your blood pressure – Click here now!
This Baba Ghanoush recipe is incredibly versatile. Serve it warm as a delightful appetizer or chill it for a refreshing dip on a sunny day. Paired with whole-wheat pita or your favorite flatbread, it's a wholesome, satisfying treat that aligns perfectly with the DASH Diet principles, ensuring a heart-healthy indulgence every time.
>>> Read more: Say goodbye to meal prep and hello to fresh, healthy meals with Fresh N Lean's gourmet delivery service. Click here.