Savoring Heart Health: A Delectable Asian Pork Tenderloin Recipe for High Blood Pressure and the DASH Diet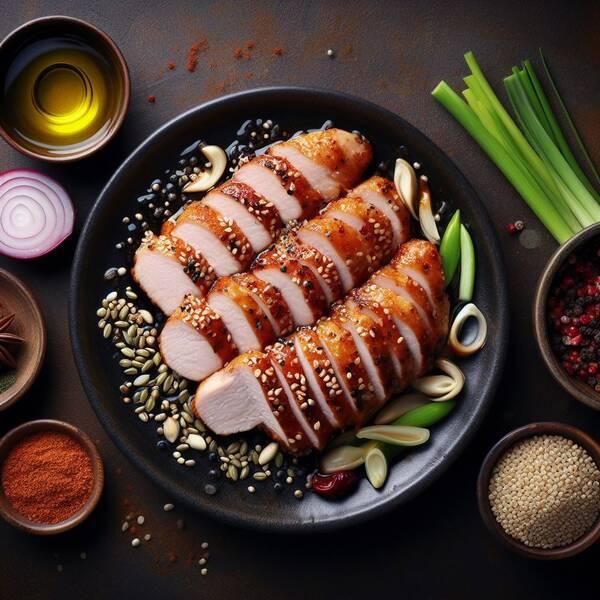 (Note: Some of the links in this post are affiliate links, and we will be compensated when you make a purchase by clicking through our links at no additional cost to you.)
Are you on a journey towards better heart health and looking for a delicious, heart-healthy main dish that caters to the principles of the DASH Diet? Look no further! Our Asian Pork Tenderloin recipe is not only a culinary delight but also a wholesome addition to your high blood pressure-friendly menu.
DASH Diet and Heart Health:
The DASH Diet, short for Dietary Approaches to Stop Hypertension, is renowned for its ability to manage and prevent high blood pressure. Emphasizing nutrient-rich, whole foods, this dietary plan is a proven ally in promoting heart health. Our Asian Pork Tenderloin aligns seamlessly with the DASH Diet, making it a flavorful and nutritious choice for those mindful of their cardiovascular well-being.
>>> Read more: Experience the power of healthy eating made easy with this printable 7-Day DASH Diet Meal Plan, designed to nourish your body and simplify your journey to better eating habits. Click here.
Carefully Selected Ingredients:
This delectable dish is a harmonious blend of carefully chosen ingredients, ensuring both taste and health benefits. The sesame seeds, a powerhouse of nutrients, add a delightful crunch and are rich in heart-healthy fats. Combined with ground coriander, cayenne pepper, celery seed, minced onion, cumin, and cinnamon, these spices not only enhance the flavor but also bring a myriad of health benefits.
Sesame Magic: A Heart-Boosting Elixir
The use of sesame oil and seeds in our recipe is not merely for flavor; it's a nod to the heart-boosting properties of these tiny wonders. Rich in heart-friendly unsaturated fats, sesame components bring a distinctive nuttiness to the dish while contributing to the DASH Diet's emphasis on healthier fat choices.
>>> Immerse yourself in the transformative power of the DASH diet with these must-read books
Heart-Healthy Cooking Techniques:
We understand the importance of cooking methods in maintaining a heart-healthy lifestyle. Our recipe minimizes the use of added fats and opts for the wholesome goodness of sesame oil. Baking the pork tenderloin ensures that you savor the succulence without compromising on health. The result? A mouthwatering dish that's tender, flavorful, and gentle on your heart.
Serving Suggestions for Optimal Heart Health:
To elevate the heart-healthy quotient of your meal, pair the Asian Pork Tenderloin with steamed pea pods and water chestnuts. These crunchy additions not only enhance the texture but also contribute essential vitamins and minerals. Accompany your main dish with brown rice, a complex carbohydrate that complements the DASH Diet by providing sustained energy without causing spikes in blood sugar. Complete your heart-healthy feast with fresh mango and papaya, loaded with antioxidants and vitamins.
Savoring Heart Health: A Delectable Asian Pork Tenderloin Recipe for High Blood Pressure and the DASH Diet
Prep time: 10 minutes
Cook time: 20 minutes
Serves: 4 servings
>>> Read more: Discover the power of nutritious and delicious eating with the Mayo Clinic Diet's expertly crafted meal plan. Click here.
Ingredients
2 tablespoons sesame seeds
1 teaspoon ground coriander
1/8 teaspoon cayenne pepper
1/8 teaspoon celery seed
1/2 teaspoon minced onion
1/4 teaspoon ground cumin
1/8 teaspoon ground cinnamon
1 tablespoon sesame oil
1 pound pork tenderloin, sliced into 4 portions
>>> Read more: Experience the power of healthy eating made easy with this printable 7-Day DASH Diet Meal Plan, designed to nourish your body and simplify your journey to better eating habits. Click here.
Instructions
Preheat your oven to 400°F and lightly spray a baking dish with cooking spray.
In a sturdy frying pan, spread sesame seeds in a single layer. Cook over low heat, stirring constantly until they turn golden and emit a toasty aroma (approximately 1 to 2 minutes). Remove the seeds from the pan and let them cool.
In a bowl, combine coriander, cayenne pepper, celery seed, minced onion, cumin, cinnamon, sesame oil, and the cooled sesame seeds. Mix thoroughly.
Place pork tenderloin in the prepared baking dish. Massage the spice mixture onto both sides of the pork pieces.
Bake until the pork is no longer pink (about 15 minutes) or until a meat thermometer reads 165°F for medium or 170°F for well-done. Enjoy your flavorful and heart-healthy Asian Pork Tenderloin!
Nutrition Information (Per Serving) – 1 Piece
Calories: 176
Total Fat: 8g
Saturated Fat: 2g
Sodium: 61mg
Total Carbohydrates: 1g
Added Sugars: 0g
Sugars: 0g
Dietary Fiber: 0g
Protein: 25g
Cholesterol: 73mg
>>> Grab Your FREE e-book: "8 Ways To Lower Your Blood Pressure Without Medication" to empower yourself with the knowledge to lower your blood pressure – Click here now!
Incorporating heart-healthy recipes into your DASH Diet repertoire doesn't mean sacrificing flavor. Our Asian Pork Tenderloin not only caters to the nuances of this renowned dietary plan but also promises a culinary experience that tantalizes your taste buds while keeping your heart in mind. Say goodbye to bland, monotonous meals and embark on a journey of flavor and health with this delightful and heart-smart recipe. Your taste buds and your heart will thank you!
>>> Read more: Say goodbye to meal prep and hello to fresh, healthy meals with Fresh N Lean's gourmet delivery service. Click here.