Is Hibiscus Good For High Blood Pressure (BP)?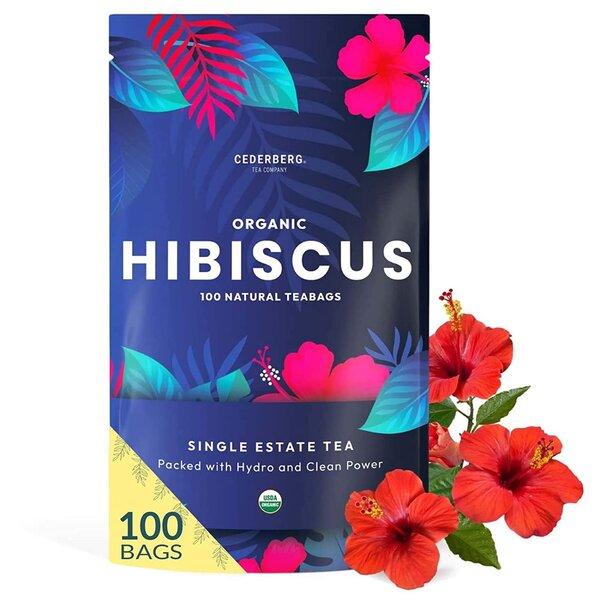 (Note: Some of the links in this post are affiliate links, and we will be compensated when you make a purchase by clicking through our links at no additional cost to you.)
Hibiscus, also known as the "roselle" plant, is a popular tropical plant that has been used for centuries in traditional medicine. It has a long history of use in many cultures, including in Africa, Asia, and the Caribbean. Recently, there has been growing interest in the potential health benefits of hibiscus, particularly for managing high blood pressure. In this post, we'll explore the evidence behind the use of hibiscus for high blood pressure and discuss its potential benefits.
What Is High Blood Pressure?
High blood pressure, also known as hypertension, is a common condition in which the force of blood against the walls of the arteries is consistently too high. Over time, high blood pressure can cause damage to the heart, blood vessels, kidneys, and other organs, increasing the risk of heart disease, stroke, and other health problems.
Hibiscus And High Blood Pressure
There is growing evidence that hibiscus may help to lower blood pressure. Several studies have found that drinking hibiscus tea can lower both systolic and diastolic blood pressure in people with hypertension. In a study published in the Journal of Nutrition, participants who drank hibiscus tea had an average reduction in systolic blood pressure of 7.2 mmHg compared to a placebo group. Another study published in the National Institutes of Health found that hibiscus extract supplements significantly reduced systolic blood pressure in people with mild to moderate hypertension.
How Does Hibiscus Lower Blood Pressure?
The exact mechanism by which hibiscus lowers blood pressure is not yet fully understood. However, it is thought that the plant's bioactive compounds, including flavonoids and anthocyanins, may play a role. These compounds have antioxidant and anti-inflammatory properties, which may help to improve blood vessel function and reduce inflammation, leading to lower blood pressure.
Other Potential Health Benefits Of Hibiscus
In addition to its potential benefits for high blood pressure, hibiscus may have other health benefits as well. For example, hibiscus has been shown to have antioxidant and anti-inflammatory effects, which may help to reduce the risk of chronic diseases such as heart disease and cancer. Hibiscus may also have antimicrobial properties, which may help to fight infections.
How To Use Hibiscus
Hibiscus can be consumed in a variety of forms, including as a tea, extract, or supplement. Hibiscus tea can be brewed from dried hibiscus flowers, which are available at many health food stores and online. To make hibiscus tea, steep 1-2 teaspoons of dried flowers in hot water for 5-10 minutes. Hibiscus extract supplements are also available in capsule form.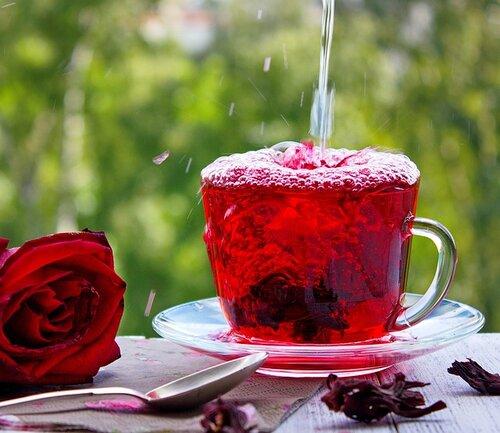 Precautions
While hibiscus is generally considered safe when consumed in moderate amounts, it may interact with certain medications, including some blood pressure medications and diuretics. If you are taking medication for high blood pressure or any other medical condition, be sure to talk to your healthcare provider before using hibiscus.
Hibiscus is a natural and potentially effective way to manage high blood pressure. With its many health benefits and versatile forms of use, it's definitely worth considering as a part of a healthy diet and lifestyle. However, as with any natural supplement, it's important to speak with your healthcare provider before adding hibiscus to your routine, especially if you are taking medications.
Here Are The Most Highly Rated Hibiscu Tea:
1. FGO Organic Hibiscus Tea Bags

1 new from $19.99

Free shipping
Last update was on: September 23, 2023 8:22 pm
HIBISCUS TEA BAGS - 100 Tea Bags filled with premium hibiscus from Egypt.
ORGANIC HIBISCUS TEA - The tea is filled into tea bags and packed into foil-lined kraft bags in California
100 ECO-CONSCIOUS TEA BAGS - Our premium tea bags are constructed of Abacá Hemp Fiber Paper. They are free of dyes, adhesive, glue and chlorine bleach. No staples, strings, bags or extra waste - just delicious tea!
CERTIFIED USDA ORGANIC & NON-GMO - All our products are certified USDA Organic and certified Non-GMO. Look for the USDA Organic and Non-GMO Project seals on our products!
---
2. The Republic of Tea Natural Hibiscus Superflower Tea

5 new from $11.50

Free shipping
Last update was on: September 23, 2023 8:22 pm
PURELY HIBISCUS: Ruby red Nigerian hibiscus blossoms shine in this juicy, herbal blend. Hibiscus delivers hints of berry and bright citrus flavors. This bold, tropical infusion is pure refreshment either served hot or over ice. Sip this pure effervescent hibiscus tea to enjoy your own summer day in the tropics.
STEEPING INSTRUCTIONS: Steeping herbal tea is easy. Simply heat fresh, filtered water to a rolling boil. Then pour 6 oz of water over the tea bag and steep for 5-7 minutes.
---
3. The Republic of Tea Natural Hibiscus Superflower Tea

12 new from $29.52

Free shipping
Last update was on: September 23, 2023 8:22 pm
Supports the cardiovascular system.*
Non-GMO Verified. All Ingredients Certified Organic. Kosher. Fair Trade Certified. Caffeine Free. State of Readiness: Ingredient
Consistently high-quality herbs from ethical trading partnerships.
Taste: Tart, tangy and fruity.
Case of six boxes, each box containing 16 sealed tea bags (96 total tea bags).
---
4. Cederberg Tea Company Organic Hibiscus Tea

-25%
1 new from $14.95

Free shipping
Last update was on: September 23, 2023 8:22 pm
More Tea, More Satisfaction — Packed with bright beautiful hibiscus harvested at peak season, our tea is so bold and flavorful you can use each bag twice. Our herbal tea bags come without individual wrappings, so each pouch can hold 100 bags of delicious caffeine-free organic tea.
Nature in a Cup — Our single origin hibiscus tea is carefully selected by our award winning tea expert for its exquisite flavor, and grown without chemicals on a boutique farm in Egypt. It's packed with hydro and clean power, leaving zero environmental impact. Steep 3-5 minutes to taste and enjoy.
---