Discover the Ultimate Heart-Healthy Delight: DASH Diet Tomato Basil Bruschetta Recipe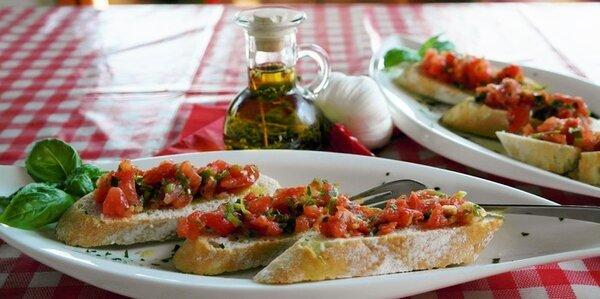 (Note: Some of the links in this post are affiliate links, and we will be compensated when you make a purchase by clicking through our links at no additional cost to you.)
Are you searching for a delectable yet heart-conscious recipe to tantalize your taste buds while keeping high blood pressure at bay? Look no further! Our Tomato Basil Bruschetta recipe, designed with the Dietary Approaches to Stop Hypertension (DASH) diet in mind, is not only a delightful appetizer but also an excellent choice for your next party.
Meticulous attention to dietary choices is imperative for managing high blood pressure, also medically referred to as hypertension. Fortunately, adopting a heart-healthy diet doesn't require sacrificing flavor.
Discover the Ultimate Heart-Healthy Delight: DASH Diet Tomato Basil Bruschetta Recipe
Prep time: 20 minutes
Cook time: 15 minutes
Serves: 6
>>> Read more: Discover the power of nutritious and delicious eating with the Mayo Clinic Diet's expertly crafted meal plan. Click here.
Ingredients
1/2 whole-grain baguette, cut into six 1/2-inch-thick diagonal slices
2 tablespoons chopped basil
1 tablespoon chopped parsley
2 cloves garlic, minced
3 tomatoes, diced
1/2 cup diced fennel
1 teaspoon olive oil
2 teaspoons balsamic vinegar
1 teaspoon black pepper
>>> Read more: Experience the power of healthy eating made easy with this printable 7-Day DASH Diet Meal Plan, designed to nourish your body and simplify your journey to better eating habits. Click here.
Instructions
Begin by toasting the baguette slices in a preheated 400°F oven until they achieve a delightful golden brown.
Meanwhile, mix the remaining ingredients in a bowl – chopped basil, parsley, minced garlic, diced tomatoes, fennel, olive oil, balsamic vinegar, and a touch of black pepper.
Once the baguette slices are perfectly toasted, evenly spoon the flavorful tomato and basil mixture over each slice.
Serve your heart-healthy Tomato Basil Bruschetta immediately to enjoy its fresh and vibrant flavors.
Nutrition Information (Per Serving) – 1 Slice Per Serving
Calories: 110
Total Fat: 2g
Sodium: 123mg
Total Carbohydrates: 20g
Dietary Fiber: 4g
Protein: 4g
Indulge guilt-free and savor every bite of this DASH Diet Tomato Basil Bruschetta as it not only delights your taste buds but also promotes a heart-healthy lifestyle, making it the perfect choice for individuals managing high blood pressure. So, elevate your gatherings with this appetizing and nutritious treat today!
>>> Read more: Say goodbye to meal prep and hello to fresh, healthy meals with Fresh N Lean's gourmet delivery service. Click here.