Deliciously Nutritious: Heart Healthy Sweet Potato Soup Recipe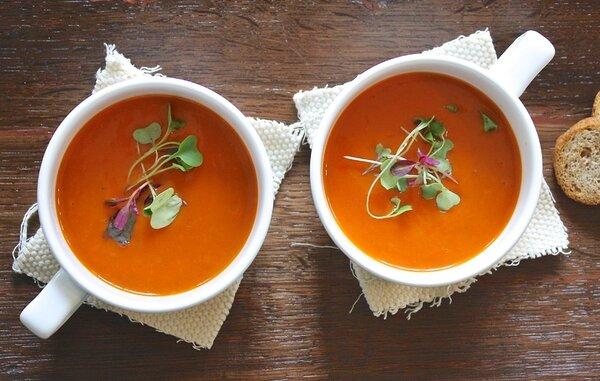 (Note: Some of the links in this post are affiliate links, and we will be compensated when you make a purchase by clicking through our links at no additional cost to you.)
Are you searching for a flavorful and heart-healthy dish to add to your high blood pressure diet? Look no further! Our Sweet Potato Soup is not only a delightful culinary experience but also a nourishing option that supports your cardiovascular health. Packed with essential nutrients and a rich, comforting taste, this soup is a must-try for anyone on a journey to maintain healthy blood pressure levels.
As the leaves start to change and the weather cools down, there's nothing quite like a warm, hearty bowl of soup to comfort your soul. If you're someone who's mindful of their blood pressure and looking for a delicious, yet heart-healthy option, you're in for a treat. This Sweet Potato Soup recipe is not only a taste of autumn in a bowl, but it's also designed with your well-being in mind.
High blood pressure, medically known as hypertension, demands meticulous attention to dietary choices. Thankfully, embracing a heart-healthy diet doesn't mean compromising on taste.
This soul-nurturing soup is a nutritional powerhouse, brimming with the wholesome goodness of sweet potatoes and carefully chosen ingredients. With a speedy preparation time of just 30 minutes and a mere 25 minutes of cooking, this recipe yields four servings and is the ideal addition to your heart-healthy culinary repertoire.
Rich in flavor and brimming with wholesome components, our Sweet Potato Soup serves as a nutritional powerhouse to aid in maintaining healthy blood pressure levels. Offering a mere 133 calories per serving, minimal saturated fat, and a scant 116mg of sodium, it stands as a nourishing choice for those committed to heart health without compromising on taste.
Deliciously Nutritious: Heart Healthy Sweet Potato Soup Recipe
Prep time: 30 minutes
Cook time: 25 minutes
Serves: 4
>>> Read more: Discover the power of nutritious and delicious eating with the Mayo Clinic Diet's expertly crafted meal plan. Click here.
Ingredients
1 pound sweet potatoes, peeled and cubed
3 cups chicken broth
1 cup finely chopped celery
1/2 cup finely chopped onion
1 bay leaf
1 tbsp canola oil
1/2 tsp dried basil
1/4 tsp salt
>>> Read more: Experience the power of healthy eating made easy with this printable 7-Day DASH Diet Meal Plan, designed to nourish your body and simplify your journey to better eating habits. Click here.
Instructions
Heat oil in a dutch oven over medium high heat.
Saute onion and celery in oil until soft.
Now add potato, chicken broth and bay leaf.
Season with salt and dried basil.
Bring to a boil over medium heat. Reduce heat to medium low. Cover and simmer for 30 minutes or until potatoes are tender.
Discard bay leaf.
Cool slightly.
Pour soup in a blender and process until smooth.
Return all to pan and heat through. Harvest Sweet Potato Soup is ready to serve.
Nutrition Information (Per Serving)
Calories: 133
Total Fat: 5g
Saturated Fat: 0g
Cholesterol: 4mg
Sodium: 116mg
Total Carbohydrates: 20g
Dietary Fiber: 0g
Protein: 4g
>>> Read more: Say goodbye to meal prep and hello to fresh, healthy meals with Fresh N Lean's gourmet delivery service. Click here.