Healthy Meals Delivered: An In-Depth Look at Fresh N Lean's Service for Individuals with High Blood Pressure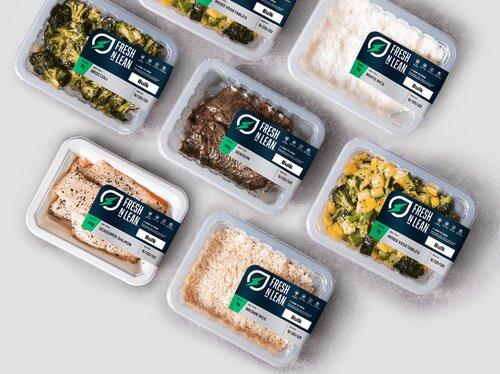 (Note: Some of the links in this post are affiliate links, and we will be compensated when you make a purchase by clicking through our links at no additional cost to you.)
If you're someone with high blood pressure, then you're probably aware of the importance of healthy eating. You need to eat foods that are low in sodium, added sugar, saturated fats, and cholesterol, and high in vitamins, minerals, and fiber. This can be a challenge, especially if you're always on the go or if you don't have the time or energy to prepare healthy meals. That's where Fresh N Lean comes in.
Fresh N Lean is a meal delivery service that specializes in freshly prepared, ready-to-eat, single-serving meals that can be stored in the refrigerator and quickly reheated in the microwave when you want to eat them. What sets Fresh N Lean apart from other meal delivery services is its focus on high-quality ingredients. All of their meals are gluten-free and made with organic produce, grass-fed beef, free-range poultry, and sustainable seafood. This means you can enjoy delicious, healthy meals without having to worry about the negative health effects of additives and preservatives.
Pros and Cons
Pros:
Seven meal plans to accommodate multiple diets
Breakfast, lunch, and dinner options
Optional a la carte menu
Certified organic ingredients when possible
100% gluten-free meals
Grass-fed beef, free-range poultry, and sustainable seafood
Fresh, high-quality ingredients
Compact packaging for easy storage
Cons:
Expensive
Minimum order of $85 per week
Some customer complaints about small portion sizes
No flexibility in meal delivery days without paying an additional fee
Hit-or-miss flavors
Not designed for couples or families
How Fresh N Lean Works
The sign-up process for Fresh N Lean is easy and straightforward. You can choose a specific meal plan or go for the Meal Prep option that allows you to mix and match meals, bulk foods, and snacks each week. Regardless of which plan you choose, your order must come to at least $85 per week. You'll then need to choose the number of meals you'd like to receive each week. You can select any combination of breakfasts, lunches, and dinners, and decide whether you want 5 or 7 days' worth of meals each week.
Meal selection is open every Wednesday evening through Friday at midnight Pacific Time. During this window, you can choose the meals you would like from your meal plan, along with any a la carte choices, to be delivered the following week. Meals are delivered fully prepared, and all you have to do when you're ready to eat one is poke a few holes in the plastic wrap for ventilation and microwave the meal for 2-3 minutes, or until heated through.
Delivery is available throughout the United States, with boxes shipped weekly on Fridays with a guaranteed Saturday delivery. For an additional fee, you can change your delivery day by contacting the company's customer service team. Meals arrive in insulated cardboard boxes with ice packs to ensure proper temperatures. Once the meals arrive, place them in your refrigerator within 24 hours. According to the company, Fresh N Lean meals should be eaten within 7-10 days. For longer storage, you can freeze them for 6-8 weeks.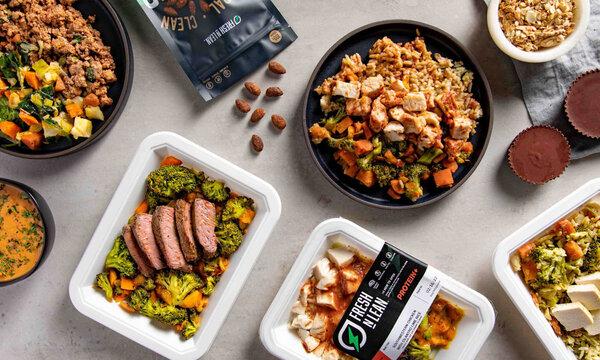 Diet Friendliness
Fresh N Lean offers seven meal plans that cater to various diet patterns, including Protein Plus, Keto, Paleo, Mediterranean, Whole30, Vegan, and Low-Carb Vegan. While none of the meal plans are designed specifically for people with conditions such as diabetes or kidney disease, there are plenty of meals to choose from that could fit into these specialty diets. Fresh N Lean accommodates some food allergies but not all. When signing up, you can select up to three food allergens, including sesame, tree nut, and soy. However, because all meals are produced in the same facility, there is a risk of cross-contamination. Fresh N Lean meals are suitable for people who follow a gluten-free diet, as all meals are gluten-free and produced in a gluten-free facility.
>>> Read more: For sample meal plan or learn more about Fresh N Lean, click here.
What Makes Fresh N Lean Unique?
Fresh N Lean stands out from other prepared meal delivery services in three key ways. First, they offer seven plans designed to suit specific dietary needs, making it easy to adhere to these dietary patterns. Additionally, every item is gluten-free and produced in a gluten-free facility, ensuring safety for those with gluten sensitivities. Second, Fresh N Lean is available to residences throughout the United States, so no matter where you live, you can enjoy their healthy and convenient meals. Finally, the company prioritizes sourcing high-quality ingredients, including organic produce, grass-fed beef, free-range poultry, and sustainable seafood. With Fresh N Lean, you can feel good about what you're eating.
How Much Does Fresh N Lean Cost?
Fresh N Lean meals start at $9.99 each, with the final cost depending on the meal plan you select, the number of meals you receive each week, and whether you add snacks or bulk options to your order. The cost per meal is highest if you order just one meal per day and lowest if you order three meals per day. Keep in mind that there's an $85 minimum order requirement, regardless of which and how many items you purchase. Shipping is free throughout the United States, making it even more convenient and accessible.
Conclusion
Fresh N Lean is a top-notch meal delivery service that offers convenience, variety, and high-quality ingredients. For someone with high blood pressure, it can be challenging to maintain a healthy diet, but Fresh N Lean takes the guesswork out of meal planning and preparation. With their focus on organic produce, grass-fed beef, free-range poultry, and sustainable seafood, you can enjoy delicious meals while taking care of your health. While it may be a bit expensive and have some limitations, such as small portion sizes and lack of flexibility in delivery days, the overall benefits outweigh the drawbacks. So, if you're looking for a convenient way to eat healthy and manage your high blood pressure, Fresh N Lean is definitely worth considering.
Try Fresh n' Lean today and experience the benefits of healthy eating made easy!